If you run a Discord server, you have a lot of options for providing cool features to your players. You can add bots to your server as an option. The process of adding these bots to your server is simple once you understand how to do it.
The purpose of this article is to introduce you to the world of bots, explain how to add bots to your Discord server (and why you might want to), and explain how to set up a Discord server.
Introduction To Discord Bots:
A bot is simply a computer program that interacts with human beings (and sometimes with other bots) in order to automate certain processes. A website with a helpful chat window that opens up automatically offering to talk with you about their product or service is a bot. The Reddit community is constantly interacting with bots (beep! boop!)
Depending on their purpose, their design, and the way they're deployed, bots can be helpful or infuriating. In Discord, bots provide a variety of different functions to the community on the server where they reside. You can add bots to your Discord server to help moderate members or to make your server a little more unique and fun.
Among these bots are those that play music, offer amusing memes, get your game stats, and play a loud air horn noise when prompted.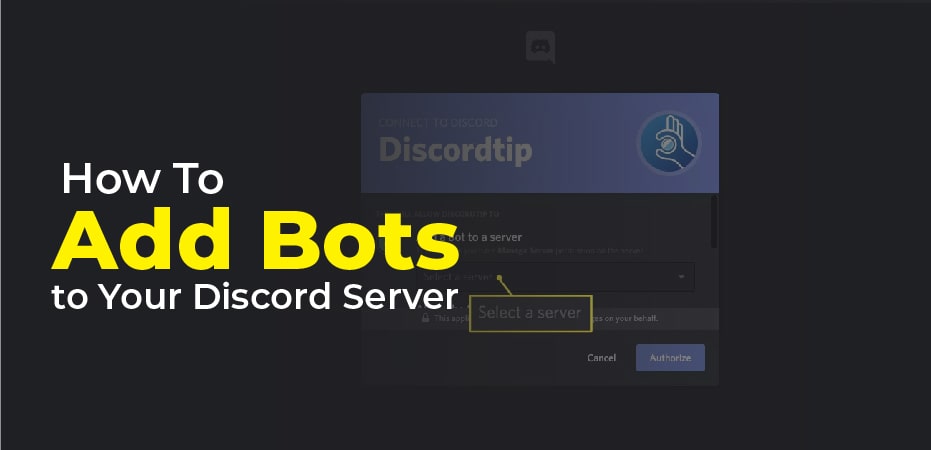 How To Add Bots to Your Discord Server:
If you are adding bots to your Discord server for the first time, it can be a tedious process. However, it's actually quite simple once you figure it out.
Enable Administrator Access – Method No 1:
It is necessary to be an Administrator of your Discord server in order to add bots. Before adding anything to a server that you don't own, you should probably contact the owner.
Pick the server you'd like to add the bot to (on the left-hand side of the Discord website).
After selecting the server, choose the drop-down menu (the server's name with a small down-arrow next to it in the top left of the screen).
Select "Server Settings."
Select "Roles."
Select "Default Permissions."
Toggle "Administrator" on in the General Permissions setting.
Click "Save Changes."
Bots to Meet Your Needs – Method No 2:
If you're adding another bot, the instructions will vary depending on the source website of the Bot. For this example, we'll use Dyno, but if you're adding another Bot, the instructions may differ slightly.
Here's how you can add a Bot to your Discord server:
Go to the website of the bot you want to add. Click the login button.
Instructions will vary based on the source. In general, however, the process is similar.
Sign in with your Discord credentials. Click on 'Continue' after selecting the server where you want to use the bot.
Click the 'Authorize' button after making the appropriate selections for your server.
Follow the setup instructions.
Check to make sure you're logged into Discord in the same browser you're using to access the Bots' website if you can't find your server. If you don't see your server, make sure that the account you're logged into is yours.Check out this Tec Junkie on adding a new administrator if you want to add someone to your server as an administrator.
How to Manage Your Bot:
We'll discuss how to manage your bot now that you've added it. There is usually a moderation dashboard on the website for most bots. Discord can also be adjusted there. Depending on which bot you are using, the instructions below will differ.
Navigate to the bot's website and click on the Dashboard option.
Go through the controls offered by your bot as you scroll down the page.
If necessary, make changes.
Every bot will have different instructions and capabilities.