Chrome's tab audio muting UI control could previously be enabled in chrome:/flags to mute individual tabs. The mute option now only exists for the site itself instead of individual tabs following the release of Chrome 64. Therefore, if you muted one tab, all other tabs will be muted as well. When you have multiple Google Meet tabs open in Chrome, they will all be muted at the same time.
On Chrome, what if you want to mute a tab instead of a site? Yes, you can do that with a Chrome extension.
What is the purpose of muting an individual tab?
A situation might arise where you need to mute a single tab, such as when you just want to mute a specific Google Meet tab without interrupting any other Google Meet sessions. Though one can always pause or muffle a particular video or live stream in the browser's media player if they wish. However, this isn't as seamless and fast as directly muting a tab from the main interface, which can be done directly from the main menu.
You can either use a chrome extension like "Tab Muter" or "Mute Tab" in order to muffle a specific tab in Chrome. Both of these extensions are designed to bring back the "Mute Tab" functionality that used to be part of Chrome. The following article will show you how to set up and use these extensions.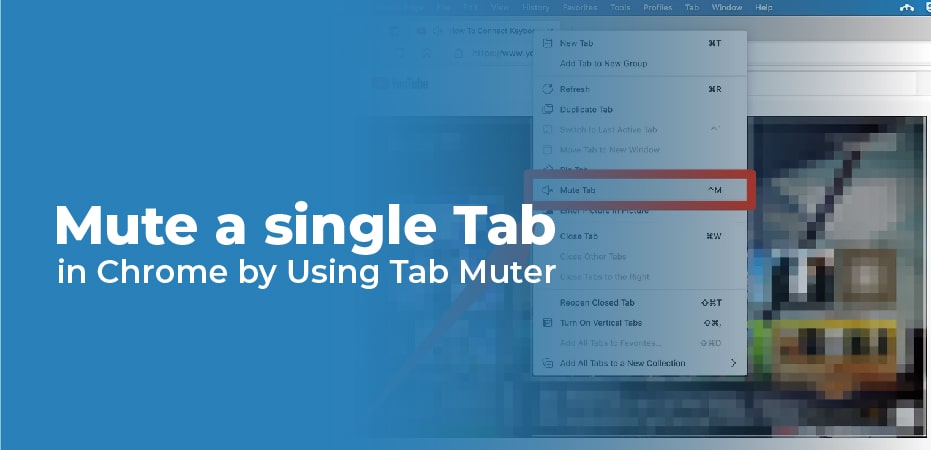 Mute a single Tab in Chrome by Using Tab Muter:
You can install the extension from Chrome Web Store on a Windows or Mac computer.
When Tab Muter is added to Chrome, click the "Pin" button next to Tab Muter to pin it to the toolbar.
You will now see a speaker icon in the toolbar at the top-right of your browser.
Tab Muter lets you mute a tab by clicking the "Mute tab" icon at the top of the tab you want to mute. The speaker icon will now be replaced by the mute icon on the muted tab.
Click the icon again to unmute the tab.
The only disadvantage is that you must first select the tab you want to mute and then toggle the mute/unmute button. In addition, Firefox and Microsoft Edge display a speaker icon next to the tab title by default.
How to Mute a Tab in Mozilla Firefox – A Browser:
Mozilla Firefox users can muffle a browser tab by right-clicking it and selecting "Mute Tab". On the browser tab, a crossed-out speaker icon appears to the left of the "x".
In Chrome, you can tell which tabs are making noise by looking for the speaker icon. A tab can also be preemptively muted before it starts making noise. In addition, you can toggle sound on and off by left-clicking the speaker icon.
How to Mute a Tab in Apple Safari:
There are multiple ways in which you can mute a tab in Safari on a Mac. The current active tab will display a speaker icon in Safari's location bar when it is playing sound. When the icon is clicked, the tab's sound can be toggled on and off. You can also right-click any tab and select "Mute Tab" or just left-click the speaker icon on the right side of the tab.
How to Mute a Tab in Microsoft Edge:
Microsoft Edge's old version required you to adjust the sound settings on your Windows computer in order to switch between tabs. Since Edge is based on Google's Chromium, you can mute tabs on your Windows, Mac, Linux, or Chrome book using the same method as you would on Chrome on a Windows PC, Mac, or Linux computer.
The first step, as mentioned above, is to open a new tab in Microsoft Edge. The next step is to right-click on the tab and then selects "Mute Tab" from the context menu appearing. This will disable all sound and music on that tab.