Giving your best friend gifts is a no-brainer because you know just what her style and preference are. She may have even hinted at a scarf or book she wanted to buy for herself but hasn't yet. But sometimes, just as writers get writer's block, best friends run out of ideas for meaningful gifts to give to their best friends. Here are some ideas for a classic best friend gift that will always be appreciated and treasured.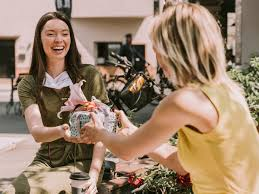 Leather, hard-bound journal
There's a creative genius in every girl. A blank journal that is just about the right size so she can take it anywhere is an excellent gift for someone you care about deeply. Journals are a source of inspiration and memory. They allow a person to write the most profound emotions, dreams, and accounts of everyday events. For that added sentimentality and class, choose a leather-bound journal. Some leather journals allow for engraving. You can have her nickname engraved on the front for an added personalized touch.
Gift basket of her assorted favorites
This tells her you know her very well. A gift basket can be your little project. For instance, get three pieces each of her favorite chocolate and candies, and buy a cute basket for them. You can adorn the basket with ribbons, flowers, or balloons. Give a gift basket of her favorite back and body luxury products. She will love you for them.
A charm bracelet or necklace
The idea is to give your best friend something that she appreciates and something that will remind her of you and your friendship. Have a necklace or a bracelet made especially for her, with her birthstone as adornment. Make sure you know what materials she's allergic to.
A salon makeover
This is a treat you can even do together! Give your best friend an instant upper on her self-esteem by having the salon prettify her from hair to toes. This is an especially great gift for best friends who have been too busy to look after themselves (think busy moms or career women). It's your way of telling them you still want them to be gorgeous while being successful in their careers.
A scrapbook
There's nothing better than looking at a well-made scrapbook years later. Give your best friend a scrapbook she can fill on her own, or do a few pages for her, filling them with you and her photos. It's sentimental, and she'll constantly be reminded of happy times with you.
There are many best friend gifts you can readily buy in stores, but if you want the sentiment to last, get her something you've put together yourself.
Are you looking for great best friend You can find some terrific ideas online with  erynshomeandgifts.com. Give your best friend something she will never forget!